Over the last few years, Oracle has used OpenWorld to show how every product (both hardware and software) is, if not Cloud-oriented the certainly relevant to Cloud Computing. Oracle OpenWorld 2012 was no exception. This year's announcements brought new meaning to understanding the types of concept of the "Cloud" and possible architectures of Oracle products. Let's review what happened this at Oracle OpenWorld 2012.
Pre-Game Show: Oracle Customer Advisory Boards
Before OOW began, the Customer Advisory Boards (CAB) – responsible for most of the products –gathered for a meeting during which the Oracle team delivered a preview of what would happen during the conference.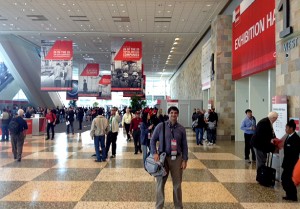 The Oracle E-Business Suite CAB meeting took place on Saturday afternoon at the 35th floor of the Grand Hyatt. Among the attendees were many important organizations currently using Oracle EBS and renowned system integrators, such as IT Convergence.
Lisa Parekh and members of her team (Steven Chan, Max Arderius, Elke Phelps and Santiago Bastidas among others) led the presentation, which included some of the new features and roadmaps that the EBS team will be releasing in the short term. Innovations such as the introduction of ENDECA, providing an improved visualization of your ERP data, will revolutionize EBS because of the In-Memory features, a special benefit for those users who deal with massive amounts of information.
The team also presented some of the Release 12.2 Beta Tester Program results, where the original two customers were IT Convergence and General Electric. Over the last weeks other companies had been included to speed up the process, and results showed that we are rapidly approaching the Early Adopter Program stage (previously called "controlled availability") and should be expecting good news soon.
Sunday marked the official beginning of the conference, and was the day for User Groups, Special Interest Groups and GEO sessions. The large number of attendees at these interesting sessions anticipated that this year OOW was going to be big. IT Convergence, as sponsor of the LatinOAUG, presented the activities and a short overview of the challenges of Oracle implementations or roll-outs in LatinAmerica.
Main Event Number 1: Larry Ellison's Keynote
As every year, at 5:00 pm it was time for Larry Ellison's show to start. Before Larry hit the stage Fujitsu's CEO spoke about innovation on multiple aspects of life and how technology will continue to change and expand its scope in our daily activities. In the picture below, IT Convergence's VP of India Operations Durga Prakash Devarakonda and Mr. Noriyuki Toyoki, Corporate Vice President of Fujitsu.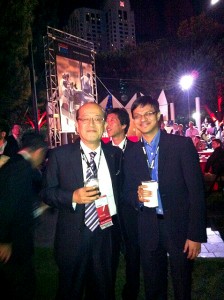 As Larry took the floor we were all anxious to hear about "EXA", but he began with a quick review of how companies provide services on the cloud. He spoke about:
Infrastructure as a Service (IaaS) oriented towards clients with technical skills so they can install, develop and run the systems they need.
Platform as a Service (PaaS) with a user profile oriented to developers. The infrastructure is ready to create the applications.
Software as a Service (SaaS), where you have the infrastructure, platform and software ready to use with a business user as its primary target.
These items were the introduction to present Oracle Infrastructure as a Service (IaaS) to compete directly with Amazon. It will include Operating System, Virtual Machines, Compute Services and Storage Services, and will come with two options: the regular cloud service offering and also the added ability to have it within your firewall – that is, to have a Private Cloud. Oracle Private Cloud will own and manage the infrastructure on the client's data center, but it will only charge for the service. The main concept is to hide complexity from the customers and have the service provider manage everything.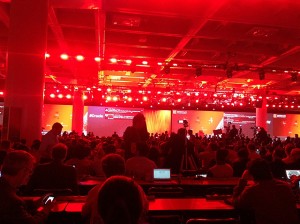 One of the biggest announcements of the show came next: the new Database 12c, the first multi-tenant database in the world, where "C is obviously for cloud". In reference to the current SaaS providers (Netsuite and Salesforce) the technology used is multi-tenant at the application level, which has security issues because the database is their single point of failure. In 1998 or 1999, when these companies built their products, they did not have a choice for a multi-tenant database like this one.
The introduction of the container database is revolutionary because it can contain multiple databases and provide a solution for SaaS offerings, creating a multi-tenant product at the database level and not at the application level.
For the grand finale Larry Ellison presented Exadata X3, the fastest In-Memory machine. 10,000 people broke into applause to celebrate the announcement that Exadata X3 will cost the same as X2. In his own words: "Two "Ms" are driving spontaneous applause: Multi-tenant and Money". Afterwards, he couldn't resist talking about competitors, more specifically SAP and their HANA product, while discussing the features and possibilities of Oracle's new release in terms of scalability and speed. Monitoring social media, SAP was tweeting against it feeling that something like that was going to happen. Further good news concerned the "entry point" for the Exadata X3 with an 8th of a rack starting at $200,000.
After the show ,the "Musical festival" kicked off with bands scheduled to play on multiple locations, including the new "Oracle Square" (San Francisco Union Square, decorated with tents and a large stage for the event).
OpenWorld and the Oracle E-Business Suite
On Monday morning Oracle E-Business Suite became the main focus. The most significant announcements were:
R 12.1 and future Roadmap:
Enhancements on user interface, a better header and improved search of functions in the navigator.
BI publisher improvements allowing better dashboards and security.
WEBADI certifications for office 2010 and over 200 integrators, plus the ability to create your own integrator.
EBS Software Development Kit for java, so that companies can build Application Development Framework (ADF) applications into EBS. A good example shown was an Organization Chart built in ADF that will be delivered with the HRMS Roll Up Pack 4.
Introduction of ENDECA integrated with EBS to do bring information and simplify navigation with in-memory search.
Mobile support for EBS. Oracle is also getting started with iPad EBS self-service modules and the certification of Safari for iOS.
Replacement of Oracle Application Server and OC4J with Weblogic in Release 12.2 is now official.
Addition of Oracle EBS to the Oracle Repository for cross-Oracle Applications integration information.
Application Management Pack as an addin to Oracle Enterprise Manager to reduce the cost of ownership. New features include data scrambling, improved cloning and patching automations.
Introduction of a Lightweight multilingual support on 12.1.3 saving time on the maintenance on patch application.
Introduction of online patching in R12.2.
Cliff Godwin's session had a couple of remarkable announcements as well:
There will be a future roll out of R12.2 and we should expect 12.2.1 and 12.2.2 and eventually R12.3, depending on the technology. This was quite stunning for most people in the audience: Would those technology-driven changes bring mobility or disconnected access? Maybe.
Turnout for Cliff's presentation was impressive and he seized the opportunity to make a quick poll about which version of EBS his attendants were running. Rough estimates showed that 60 % were running 11i and the rest were on some version of R12. This figures provided the introduction to a support announcement:
An exception to 11.5.10 sustained support for 1-Dec-2013 to 31-Dec-2014, thus providing 13 more months of sustained support, new fixes to Severity 1 product issues, US Form 1099 and Payroll updates.
A new support timeline for 12.1 extended support was moved to Dec-18 with all uplift fees waived. This decision will result in 19 additional months of extended support.
OpenWorld: Oracle Fusion Takes Center Stage
Afternoon brought IT Convergence's CTO presentation: Oracle Fusion? No Confusion. The session drew quite a large crowd interested in hearing Gustavo Gonzalez's answers to questions such as: How to approach the co-existence strategy? What are the challenges facing Fusion Applications on-premise? Why should I go for a SaaS or On-premise?
On Monday night IT Convergence hosted its first event. A beautiful Cavallo Point restaurant was the location for an executive dinner with over 40 guests. At the end of the event IT Convergence's President, Patrick Krause, spoke about how this year has been one of the best in the history of ITC in terms of revenue and how proud we are of reaching the 750 employees mark worldwide. He also celebrated our strong relationship with Oracle and their new products such the new release of E-Business Suite and Fusion Applications.
The third day revolved around Fusion Applications. Tuesday started with a session in which IT Convergence, invited by Terrance Wrampler (Fusion Application Financials VP of Product Management), discussed the experience of implementing Fusion Financials. Kathy Kate from The Professional Golf Association presented their case of a fully local Fusion Application Financial's re-implementation from E-Business Suite 11i.
Main Event Number Two: Larry Ellison's Second Keynote
Larry Ellison's Keynote on Tuesday was about Fusion Applications and how Oracle conceives Big Data applied to the business. The initial impression was that the keynote was too technical, but the concepts and products shown created a good visual impact. Larry presented important information on the Oracle SaaS offering (including Human Capital Management (HCM), Customer Relationship Management (CRM) and Enterprise Resource Planning (ERP)) and provided some implementation metrics:
Fusion Applications adoption: ERP 23%, CRM 38% and HCM 39%
Deployment options: Cloud 67%, On-Demand 9% and On-premise 24%
The introduction of Social Management included at the platform level prepared the ground for a demo about Fusion Applications. The example was based on real data, with the goal of defining which Olympic athlete was the better fit for a Lexus' advertisement. The source of an analysis that had Larry navigating on ENDECA dashboards was a collection of 4.9 million tweets with structured and unstructured data.
On a colorful note, Larry made use of his charisma and drew many laughs when he noticed that contrary to popular belief, Blackberry was among the relevant devices and suggested he should invest in RIM. Afterwards he had to explain he does not currently own shares and is not interested on buying RIM. It might be a good opportunity to continue adding "hardware" to Oracle's portfolio, but it's too adventurous to say…
Missed OpenWorld? No Worries
You can download copies of OOW presentations from Oracle's content builder.
Likewise, IT Convergence's blogging team has published a series of entries on Oracle OpenWorld which you can read here.
Look here for Gustavo's forth coming book: "Oracle E-Business Suite Financials Handbook", Third Edition.