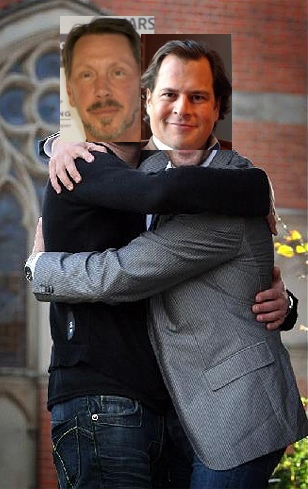 We're familiar with Oracle acquiring companies. We've heard so many over the last 5 years that we just read the press release and try to understand how that will impact our investment (if you're a customer) or your business (if you're a partner or work in the Oracle ecosystem).
June 2013 will be remembered as the biggest month for cloud partnerships in the history, probably short but good enough to bring "enemies" to "allies".  It might sound too harsh the word enemy but let me take you a few years back and try to understand how this new partnership between these two giant companies can change your world.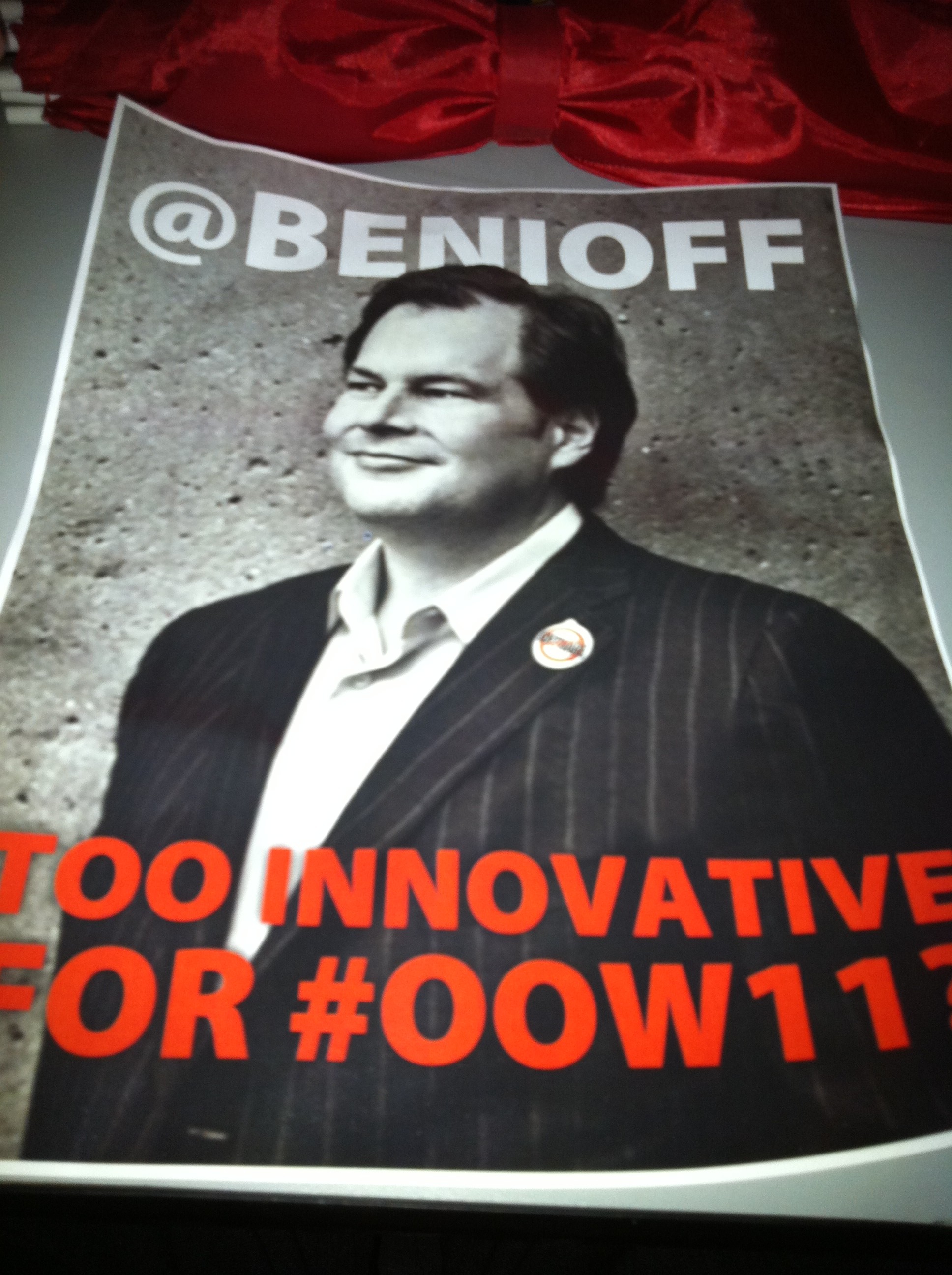 The picture shows a pamphlet distributed by Salesforce.com back in 2011, when at that time Ellison's team moved Benioff's speech from Wednesday morning to Thursday morning (it was 8am) after a Wednesday's night appreciation party with Sting. Of course it sounded like a cancellation. Check out the tweet from @benioff that was printed on the back side.  More tweets from that moment here.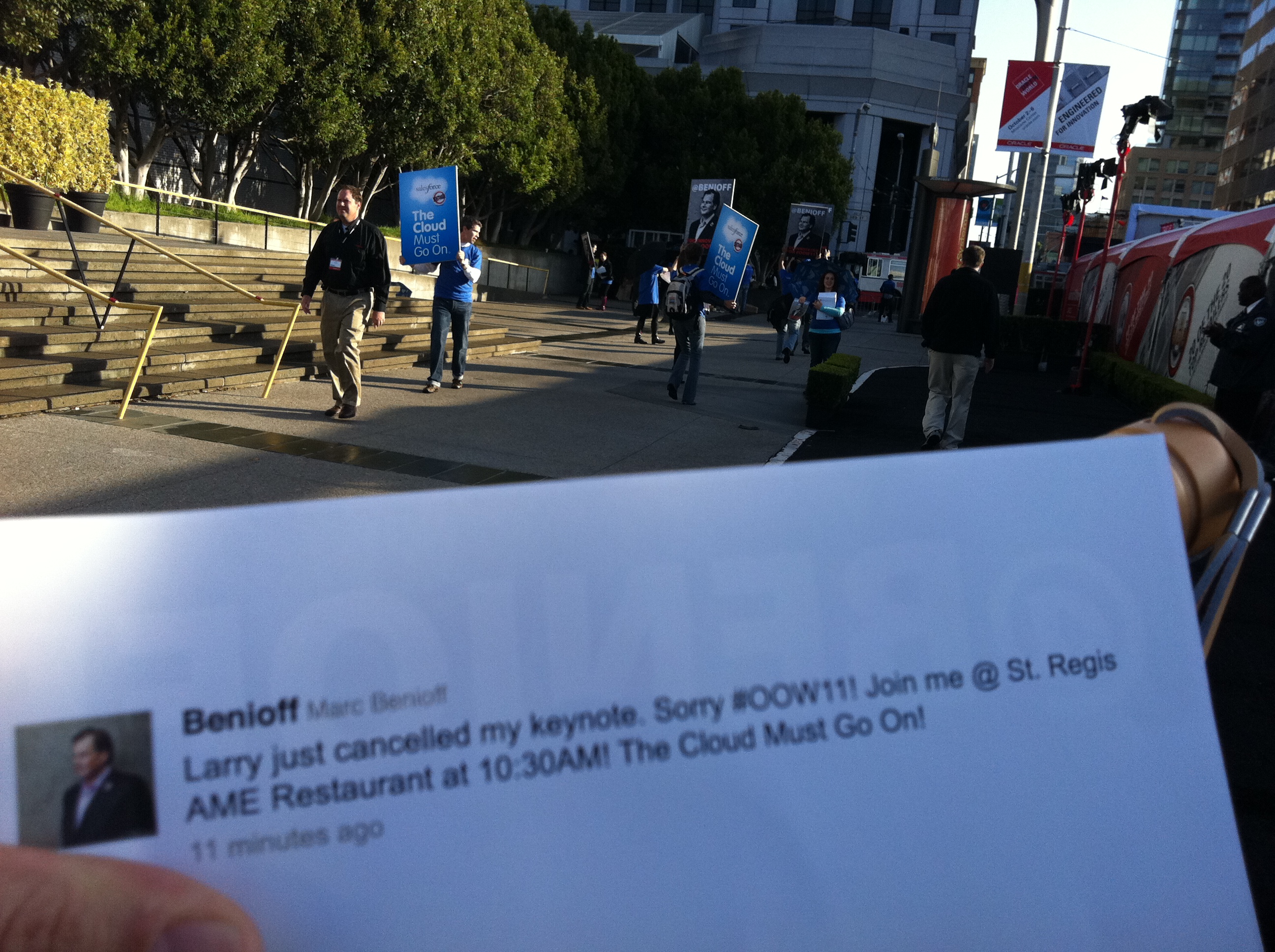 And it was all about egos.
It was a battle of what a cloud means and who owns the cloud. Benioff's comments on Exadata driving laugh from the audience on his speech talking about "the false cloud, is not efficient, it is not democratic, it is not economical, and it is not environmental!".
Of course Ellison, as usual, did reply and called Salesforce.com's platform a "roach motel".
So, now it might not sound so realistic but business is business and here we were listening a conference call, with more than 200,000 people, to Larry Ellison and Mark Benioff spreading love on the air.  Don't laugh but these are some of the quotes:
"There's no better product in the world in the database area than Oracle," Benioff touted.
Benioff predicted that the "opportunities are endless," for the Oracle-Salesforce relationship
Ellison acknowledged there are "some overlapping products" in Oracle's and Salesforce's portfolios, but he also said that "there are far more opportunities to work together than to compete."
"On the entire infrastructure part of the stack, we will work with Salesforce.com constantly on security," Ellison specified.
It was a good scripted call where both of them presented a strategic partnership based on the following facts:
Salesforce.com will standardize on Oracle Linux operating system, Exadata, Java Middleware and Oracle Database 12c, which introduces the concept of "pluggable databases".
Salesforce.com will implement Oracle's Fusion HCM and Financials cloud applications internally.
Oracle will integrate Salesforce.com with Oracle's Fusion HCM and Financials cloud.
If you're a company that is running Salesforce and you're thinking on Fusion Applications in the cloud, then you will benefited. When? How? That's is uncertain and it will depend on how the integration will flow with the first company running this that it is for sure Salesforce.com. This will have some negative impact on those organizations that are building products to integrate platforms such as Boomi or Informatica, just to name a few, but the world of integrations is not just Oracle Applications and Salesforce.com.
If you're running Salesforce, then you might notice the change in the speed of the system and we'll also have to wait to see how Salesforce.com will leverage the new features of Oracle 12c and Oracle engineer systems (EXA stack) that they just announce to introduce to their products.
How this partnership will impact the Oracle Ecosystem? It is definitely a huge advantage and we will be expecting more attraction on Fusion Applications without doubts. It is a great marketing event and that's what all about. Can this speed up the implementations of Fusion Apps? Yes, I think this will traction more the adoption and trust of the commitment of Oracle to their cloud ERP.
If you're running Applications Unlimited (Oracle E-Business Suite, JDEdwards, Peoplesoft) don't expect a big change in the roadmap but start getting in your plans Fusion Applications right away.
This love story will continue, by the cold writing of a contract, until 2025 (is it really 12 years?) and we will see at Oracle Open World -I won't be surprise if it is at the keynote- Larry and Mark hugging to each other and drinking Champagne like the old times when both have the same company in their business cards.