This year Oracle Open World was different. It started the week prior to the show at Oracle Headquarter. Why was that? Oracle Technology Network invited Oracle ACE Directors from all over the world to attend a briefing prior to OOW13, from all the Product Management teams including Thomas Kurian, Executive Vice President of Product Development. That briefing was under a Non-Disclosure Agreement (NDA) and that's why all the tweets and communication during these 2 days was just about a few items that we were able to talk about.
This was my first briefing as an Oracle ACE Director, and a friend said to me prior to the kick-off "… you'll see that these 2 days is worth like attending 200 sessions at OOW…". It was so true. These 2 days with meetings from 8am to 5:30pm networking with experts on multiple areas, such as Oracle Database, MySQL Database, Business Intelligence, Hardware, Java, and Oracle Applications, etc.
We also had time to go out for dinner with folks from Germany, Netherlands, UK, Australia, Azerbaijan and USA. In the pic: Bjoern, Gustavo, Alex, Debra, Lucas, John, Kent, Roel and Kamran (took the picture Yuri)
After the briefings we had time to play with some gadgets that were brought by the Oracle User Experience Team:
| | |
| --- | --- |
|   |   |
| Google Glasses | Playing with mini-robots |
On Friday afternoon we jumped on a bus and went to San Francisco to get ready for Oracle Open World, which starts on Sunday.
But on Saturday the rain did not stop some of the Oracle ACE Directors to go and see the Americas' Cup.
After that I had to run to the Oracle E-Business Suite Customer Advisory Board meeting. It was great the atmosphere at that meeting and the relief from the Oracle Applications Technology team of having out of the door the new EBS Release 12.2. Besides the presentation of R12.2 the team focused on what is next.
Great times are coming for E-Business Suite customers, and most of the enhancements that were requested at the Customer Advisory Board are on the way to be released. But also huge improvements in the user experience are being built and this will enhance dramatically the way we work. New mobile native applications for approvals and expense report entry are some of the examples of what is next. Of course the enhancement on EBS screens making them compliant with tablets and using gestures to move through the wizard or just approving a purchase order by drawing a check in your tablet.
After Saturday's rain, Sunday was a beautiful day and everything was ready for the big opening. Howard's tent was changed into comfortable living rooms and tables to network.
It was time for the presentation and with a big audience; I delivered a session on challenges for E-Business Suite implementations in Latin America. Lots of good questions and also many surprises –as expected- regarding the complexity of implementing in our countries.
Before the first keynote, we stopped at the International User Group booth, networking with User Groups from all over the world.
Everything was ready for the big opening. Thousands of people were lining up to see Larry Ellison's announcements.
With Marcelo (Oracle ACE) from Argentina we had a great view of the stage.  The keynote was kicked-off by Oracle's CMO giving some facts of the biggest conference ever. After that Fujitsu's Executive Vice President demonstrating how Oracle technology can be leveraged in today's world.
And finally Oracle's CEO appears on the stage. We didn't know this was going to be the only appearance of Larry at Oracle Open World 2013. Many announcements and I'll be focusing on just a few:
Oracle Database and Middleware
– Oracle Database In-Memory option to help customers accelerate database performance for analytics, data warehousing, reporting and online transaction processing (OLTP). This feature accelerates database performance enabling new business insights, real-time decision making, and much faster online transaction processing response times without changes to existing applications. 
Oracle Engineered Systems
– Launch of SPARC M6-32 and Oracle SuperCluster M6-32
– Enhancements to Oracle Big Data Appliance, integrating enterprise security with pre-configured Kerberos authentication, LDAP based authorization, and robust centralized auditing with Oracle Audit Vault and Database Firewall.
– Launch of Oracle Database Backup Logging Recovery Appliance, the industry's first backup appliance engineered specifically for database protection. This appliance delivers near zero data loss data protection, minimal impact to user performance, and a massively scalable architecture.
 On Sunday night, Oracle Technology Network sponsored a dinner for the Oracle ACE program at the Walt Disney Museum in Presidio. It was a great opportunity to say hi to folks from all over the world and enjoy dinner and drinks.
After this dinner we jumped on a Bus, joking with the Bus driver about the music he was playing and stopped at the Oracle Latin America Cocktail at the Asian Museum. A collection of Asian art from Larry Ellison was stunning and we had the pleasure to explore it with some folks from USA, Panama, Ecuador, Mexico and Peru.
Monday was the "D" day for the announcement of E-Business Suite Release 12.2 and at the General Session, Cliff Godwin made the already known announcement with more than 600 people attending.
As the leader of IT Convergence's beta program on EBS Release 12.2, I was thrilled watching how Oracle has valued our investment mentioning IT Convergence as a partner that has contributed to the successful completion of the product and promoting us as one of the partners that organizations can rely giving our strong knowledge of the changes and how that can impact the investments on Oracle Applications.
Some of the announcements included a change in the support of Oracle E-Business Suite as shown below:
After the General Session I went to IT Convergence's booth, and on my way from Moscone West to Moscone South, I looked at the sky and was surprised by how the biggest competitor SAP was "writing in the sky". It looked like these old dot matrix printers but the sky so blue helped them to perform this state of the art advertising.
IT Convergence's booth was crowded, with people from multiple organizations asking for some guidelines on how to upgrade or implement Oracle technology to our experts.
On Monday night, I attended the User Group President's meeting were I met with Javier and Miguel from Spain, Paola from Ecuador, Miguel from Peru, Edgardo from Panama and other members from countries around the world.
Tuesday morning was day for book authors and
I attended an exclusive meeting with top Oracle Executives presenting just for authors. The major attention was directed to the announcements on the new in-memory feature and also how 12c is becoming a huge step forward with the pluggable databases. Kudos for Sheila and team for this great meeting.
 Tuesday afternoon, the Oracle USA Team won the first challenge and was still loosing 7-8 and there was one more race at the exact time of the keynote. We anticipated that Larry was going to be at the boat watching that final and that happened. But before that, there was a presentation of Microsoft & Oracle partnership in the cloud making available Oracle products in Azure.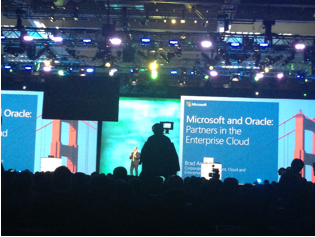 If you're wondering how this works. Well, in my opinion Oracle besides their cloud strategy they have products and they need to position the product everywhere, even on their competitors. With the introduction of Microsoft, Oracle has their products at every possible cloud provider, which makes every organization capable of choosing any cloud services but continue to be using Oracle products.
The announcements on Oracle cloud where done by Thomas Kurian who play Larry's role at the central stage. Some of the major topics were:
– The addition of 10 new services to Oracle Cloud, expanding Oracle's comprehensive portfolio of Application, Social, Platform and Infrastructure Services – all available on a subscription basis. These include Compute Cloud, Database Cloud, Java Cloud, Business Intelligence Cloud, Documents Cloud and Mobile Cloud.
– Oracle unveiled the Oracle Cloud Marketplace, which will provide customers with access to a wide variety of partner applications to extend Oracle Cloud.
– Oracle revealed the roadmap for Nimbula Director and OpenStack API Integration with Oracle Exalogic Elastic Cloud. This Infrastructure-as-a-Service evolution will provide customers with a highly scalable, self-healing and resilient private cloud environment. The integration of Nimbula Director into Oracle Exalogic Elastic Cloud will enable customers and service providers to deploy an open, standards-based Infrastructure as a Service (IaaS) foundation with proven breakthrough application performance for Java, Oracle Fusion Middleware and Oracle Applications.
– Oracle Mobile Cloud Services enables developers and IT to create and manage mobile friendly APIs making it very easy for mobile developers to integrate their applications with enterprise data and services.
– Oracle Billing and Revenue Management Cloud is a new Cloud Service that will help enterprises deliver and monetize innovative new product offerings and captures recurring revenue streams.
A must attend session is Steven Chan's E-Business Suite Technology Stack Certification and Roadmap, where a few items were highlighted and are important to share with EBS users, with the introduction of Weblogic to Release 12.2:
EBS 12.2 uses Oracle WebLogic Server (WLS) instead of Oracle Containers for Java (OC4J).  Customers' existing E-Business Suite licenses will cover these requirements.  Existing E-Business Suite licenses include iAS EE, which in turn includes WLS Basic. In other words, WLS Basic covers the use of WLS in EBS 12.2 for standard uncustomized EBS environments.  No additional licensing is required for EBS 12.2's use of WLS in uncustomized environments.
EBS customers who have customized their environment must purchase full-use iAS EE licenses.  This applies to EBS 12.2, 12.1, 12.0, and 11i.  This is true regardless of EBS 12.2's use of WLS.
Customers' optional use of EBS 12.2's Integrated SOA Gateway components will require additional full-use licenses for both SOA Suite and the Oracle Applications Adapter (a.k.a. E-Business Suite Adapter).  SOA Suite requires, in turn, a license for Web Logic Suite.
Oracle invited IT Convergence to a recognition dinner where we had time to congratulate the Application's technology team, meet with other beta customers and receive recognition from Cliff.
Wednesday was a big day for Larry since the Oracle Team USA won the last race becoming the 34th America's Cup Winner.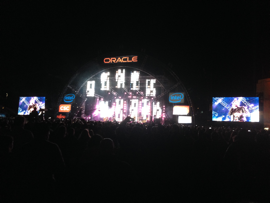 The appreciation event at Treasure Island has, in my opinion, doubled the size of last year and Maroon 5 was extraordinary wrapping up a week that was full of activities, announcements and great networking.
Check out more deep dive technical posts of OOW13 announcements at http://itconvergence.blogspot.com