Finalmente, y tras algunos cambios en el aspecto personal en los últimos días, quería dejar algunos comentarios sobre el evento de Oracle Open World 2011, en donde este año pudo verse a un Oracle definitivamente trabajando sobre el aspecto de las aplicaciones.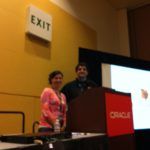 Antes, quería comenzar hablando de latinoamerica, y en una de las presentaciones que realizamos con Cecilia Aceti el domingo, sobre el grupo de usuarios para latinoamerica (LatinOAUG), se podía ver como muchas empresas Estadounidenses y globales, comenzaron a poner el foco en Brasil. No solo como ocurría años atrás en un modo de exploración, sino esta vez ya con preguntas más profundas, de como gestionar la complejidad brasileña (que es mucha) y las herramientas que hay que implementar para complementar E-Business Suite.
Definitivamente, el Oracle Open World en San Pablo, en Diciembre de este año va a ser muy grande y las organizaciones se estan preparando para la explosión brasileña.
Tal como describí en las primeras impresiones sobre OOW11, el domingo fue "mucho hardware" y el mundo Oracle seguía con ojos cercanos los anuncios que se vendrían el miércoles.
El martes, toco el turno de mi presentación "Oracle BI and Fusion Analytics: The Inside Scoop on Planning and Executing an Implementation". A decir verdad, el horario no era muy satisfactorio, ya que 11:45am y la gente del evento sirviendo el almuerzo gratis a esa hora podía restarme asistentes. Por otro lado a 10 metros de la sala donde realizaba mi presentación, ejecutivos de Oracle hablaban sobre la estrategia del producto de Oracle Business Intelligence… en fin, en este caso, mi exposición era sobre un caso real de implementación y como cliente de Oracle -además de partner- lo cual para organizaciones evaluando herramientas de BI o aquellas que ya lo habían implementado, es realmente muy valioso.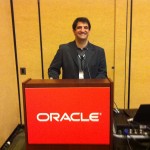 Y así fue, la sala estuvo repleta con gente de pie. La presentación que puede ser bajada desde aquí, duró aproximadamente 50 minutos y al final un cerrado aplauso inundó la sala.
La lluvia amenazaba el "Appreciation Event" donde Sting iba a hacer su presentación. Todos los pronósticos no eran alentadores.
El miércoles por la mañana, cuando me acercaba al Moscone Center, un grupo de personas con pancartas, entregaban folletos y paraguas. Eran promotores de Salesforce.com, invitando a una presentación de su CEO, en un hotel porque Oracle había cancelado su presentación.
Larry canceló mi presentación. Perdón OOW11! Unanse a mi en el Hotel St Regis AME Restaurant a las 10:30am! La nube debe seguir (The Cloud Must Go On!)
La presentación de Benioff, fue sobre cloud y como su plataforma estaba siendo revolucionaria en este nuevo paradigma de subir todo a la nube. La realidad es que Oracle movió su keynote al Jueves a las 8am y obviamente, después de un show como el de Sting, no iba a tener mucha asistencia. Por lo que con sus herramientas de marketing (con un uso intensivo de las redes sociales) logró que todo el mundo estuviera atento a lo que tenía para decir. Hasta invitó al CIO de Facebook a participar de esa charla…
Mucha información de como las redes sociales iban a cambiar la cultura corporativa, y esto era solo el anticipo de lo que iba a dar a luz Oracle por la tarde.
Por la tarde, Larry Ellison tomo el escenario en su keynote y dejo claro por que Oracle sigue siendo una de las empresas más grandes de tecnología del mundo.
Para comenzar, habló de Oracle Fusion, en donde el esfuerzo que realicé en IT Convergence con Early Adopters para Fusion, se vio reflejado en la presentación del mismisimo CEO de Oracle, agradeció a los más de 200 clientes que ayudaron a Oracle con el desarrollo de este nuevo y revolucionario producto. Oracle Fusion estaba disponible a la venta (o General Available) era su primer anuncio.
Después paso Sting a saludar a la asistencia al keynote, y luego vino el anuncio de como Oracle comenzaba a "subirse" a la nube en lo que respecta a aplicaciones. Era el momento de la presentación de "Oracle Public Cloud". Y este nuevo ofrecimiento de Oracle es realmente revolucionario. En su presentación, Larry hizo mención que todo el producto esta basado en standares y esto es clave en comparación con Salesforce.com que tiene sus herramientas propietarias (force.com, apex, etc). Quizás estuvo repetitivo atacando a Salesforce.com, pero creo que el mensaje quedó claro: standares de la industria!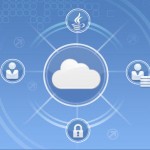 Este nuevo ofrecimiento tiene 2 grandes componentes: aplicaciones y por otro lado plataformas. En lo que respecta a aplicaciones, dado que Fusion es multiplataforma, Oracle lo montó sobre la nube y permite que puedan configurar y utilizarlo. Los dos productos de Fusion son: CRM y HCM. Esta claro que se va a expandir, pero estas dos familias son las más testeadas y que revisten menos complejidades globales, como por ejemplo impuestos.
En la plataforma, lanzaban un claro competidor a Database.com, pero basado en standares (sí "Industry Standards" Larry!) con Java y Base de Datos. Y aquí es donde hay un gran valor agregado. Poder utilizar bases de datos o hacer desarrollos java en la nube, pagar por el uso (todavía no esta definido el pricing) y luego si uno desea poder moverlo a su propio datacenter. Eso es algo muy esperado por la comunidad Oracle y ahora solo resta entender la parte de costos, que imaginamos no debería ser tan oneroso.
Solo resta mencionar la nueva Oracle Social Network, que planea unir el ERP con las redes sociales para hacer un uso más eficiente del tiempo y los recursos.
Luego del keynote de Larry, era momento para prepararse para Sting, pero una noticia enluto San Francisco y el mundo. Steve Jobs, CEO y fundador de Apple dejaba este mundo.
Asi fue como Sting dedicó a este gran creador "Fields of Golds" en su recital que fue acompañado por una hermosa luna. La lluvia solo se detuvo por algunas horas y dejo disfrutar a los más de 45,000 participantes de un show espectacular.
Hasta el próximo post!
Gustavo